Plenary Session: Thursday, February 10, 2022 — 2:00pm to 3:45pm*
Symbiosis. The relationship between two or more different organisms. Ideally, both individuals benefit from the relationship, but that is not always the case. You may remember this scientific concept from your introductory biology classes, but in  reality our lives are made up of an immeasurable number of symbiotic relationships that are constantly changing. There are the obvious ones, your relationships with your friends, family and coworkers. And there are those that you may not think about as often, like your relationship with your neighbors, your legislators, stakeholders in your study system, other wildlife biologists across the globe, or just on the other side of the state. Then there are our non-human relationships, those with our pets, with the animals in our study system, with viruses, with our homes and offices, our cars, our energy systems, our smartphones, and all kinds of other objects and technology. All actions we take have impacts on the world around us and show just how helpful our relationships can be. For this year's Annual Meeting I would like us all to spend some time considering our own Symbioses, and how we can 'Rethink Relationships to Optimize Ecological Conservation.'
*The Plenary Session will be livestreamed for our virtual attendees.
Plenary Session Speakers: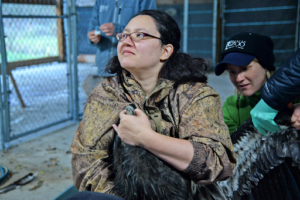 Tiana Williams-Claussen, Director, Yurok Wildlife Department
Tiana is a member of the Yurok Nation, from the village of Wehl-kwew', and Director of the Yurok Tribe Wildlife Department. She received her Bachelor's degree in Biochemical Sciences from Harvard University and was instrumental in the creation of the Yurok Tribe Wildlife Program and the development of many of its conservation initiatives, including the effort to reintroduce California condors to Yurok Ancestral Territory. Tiana relies on her native upbringing and formal education to bridge the beliefs, knowledge, and practices of the Yurok with those rooted in Western-science, and to work toward a cohesive, well-informed perspective on holistic ecosystem management.
---
Luka Zavas, Outreach Associate, American Bird Conservancy
Luka graduated from University of Hawai'i Mānoa with both her BS and MEM from the Department of Natural Resource and Environmental Management within the College of Tropical Agriculture and Human Resources. A local of ʻĀhuimanu, Kahaluʻu, Oʻahu, her love for ʻāina (land which nourishes) has been the root for her journey from the dry-land forests of Waimea Valley to the coastal wetlands of Keawāwa, Maunalua. Her  Master's capstone explored the importance of stories, between people and place, for fostering a reciprocal relationship that will encourage communities to create space for cohabitation. Luka has worked as a conservation land specialist and ʻāina educator, finding her passion in helping communities connect and create their own stories with place. She now works with Birds, Not Mosquitoes, a multi-agency partnership, working to save the native honeycreepers of Hawaiʻi from extinction by using a naturally-occurring bacteria as a "mosquito birth control" to suppress mosquito populations and the spread of avian malaria.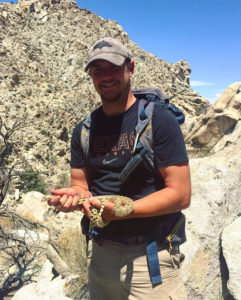 Marcus Blum, Post-Doctoral Researcher, University of Nevada, Reno
Dr. Marcus Blum is a large mammal ecologist and postdoctoral researcher in the Department of Wildland Resources at the Utah State University. He received his B.S. at Texas A&M University – Kingsville and his M.S. and PhD at the University of Nevada, Reno.  His research focuses on resource selection, movement, population dynamics, and behavior of large mammals.  Marcus is also interested in using new technology, such as unmanned aerial vehicles (UAVs) to enhance our understanding of ecological relationships and population dynamics of species.  He uses this research to inform management decisions and harvest dynamics in large mammals.  Marcus' current research is focused on using resource selection and movement data to predict the spread of chronic wasting disease in mule deer (Odocoileus hemionus) populations throughout the state of Utah.  Previously, he investigated the effects of reproduction on selection and movement behaviors in desert bighorn sheep (Ovis canadensis nelsoni) populations.  He used a combination of traditional and UAV based remote sensing data to increase our understanding of tradeoffs in habitat and diet selection.  He also used UAVs to delineate bighorn sheep habitat through very high-resolution point clouds and provide new ways of investigating the viewshed ecology of large mammals.
Keynote Session:  Wednesday, February 9, 2022 — 10:00am to 11:30am*
Keynote Session Speaker:
Heather Reich, Bear Biologist, Nevada Department of Wildlife
Heather Reich graduated in 1998 from the University of Montana, Missoula with her BS in Wildlife Biology.  Her main focus in her career has been management and resolution of human-bear conflict.  She spent a decade working with Tim Manley and grizzly bear conflict management.  In 2015 she was hired on by the Nevada Department of Wildlife where she works side-by-side with Carl Lackey and their team of Karelian Bear Dogs to try and help the bear and people of Nevada live together while working towards her master's degree at the University of Nevada, Reno.  Heather will be bringing a special guest to the Peppermill!  Her Karelian Bear Dog!
Heather will be speaking about managing a population of black bears reestablishing themselves into historic ranges in Nevada while trying to balance various stakeholder interests, non-lethal management and bears in urban environments.'
*The Keynote Session will be livestreamed for our virtual attendees.
Capstone Session: Friday, February 11, 2022 –11:00am to 12:30pm*
New for 2022 – Friday Capstone Session This exciting event will bring us all back together for one final networking opportunity at the closing of the Annual Meeting. We have an incredible trio of speakers from the Schell Lab at UC Berkeley: PI Dr. Chris Schell, post-doctoral researcher Dr. Christine Wilkinson, and PhD student Tyus Williams. These wildlife biologists not only do incredibly exciting research on urban carnivores, but are also experts in science communication and community outreach. During this capstone event, these presenters will illustrate how science communication is a part of their wildlife research, not separate from it. Through a series of presentations and interactive activities they will give those in attendance a framework for processing thoughts about science communication, tactics for engaging with stakeholders, and practice communicating and networking with new people. 
*The Capstone Session will be livestreamed for our virtual attendees.
Capstone Session Speakers: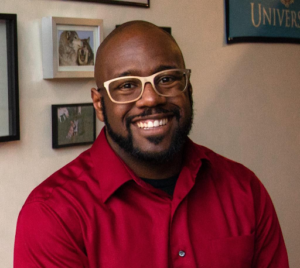 Dr. Chris Schell, Professor, Department of Environmental Science, Policy, and Management, UC Berkeley
Dr. Chris Schell is an urban ecologist whose research integrates evolutionary theory with ecological application to disentangle the processes accentuating human-carnivore conflict. Specifically, Chris' interests lie in understanding the endocrine mechanisms that underpin carnivore behavior, as well as explicitly examining the anthropogenic drivers (i.e. human densities, roadways, pollution, interactions) that select for bold, habituated, and less fearful individuals in metropolitan areas. His research is uniquely tied to the community; urban ecology is inherently a synergy of anthropogenic forces and natural processes. Hence, he often works closely with underrepresented communities, wildlife managers, cultural institutions, and philanthropic organizations to help foster mutually enriching relationships among people and wildlife.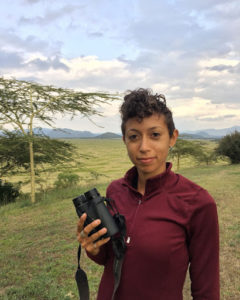 Dr. Christine Wilkinson, Poc-Doctoral Researcher, Schell Lab, UC Berkeley
Dr. Christine Wilkinson is a conservation biologist and a postdoctoral scholar in the Department of Environmental Sciences, Policy, and Management at the University of California, Berkeley. Her research interests include human-wildlife conflict, carnivore movement ecology, multidisciplinary mapping, and using participatory methods for more effective and inclusive conservation outcomes. Christine has spent the last decade working in conservation biology and natural resource management around the USA and in Kenya, Tanzania, and Uganda. She has also served in various capacities as an informal educator, piloting and implementing dynamic programs for teenagers and young adults at the California Academy of Sciences and around East Africa. During her experiences as an educator, she has developed a passion for conducting applied participatory research and for empowering community-created solutions to our world's conservation challenges.
For her current research, Christine is taking an interdisciplinary approach to study the social and ecological drivers of urban carnivore movement and conflict in the Bay Area, California. She is also using remote sensing and GIS analyses in conjunction with participatory mapping to understand landscape permeability for carnivores, the dynamics of livestock predation instances and perceived human-hyena conflict risk, and the intersection between human and carnivore resource needs in and around Lake Nakuru National Park, Kenya. Christine is a National Geographic Explorer, and uses every opportunity to share her science through media and informal education. In her spare time, she teaches and plays taiko in San Francisco. Through these opportunities and experiences, Christine is keen to elevate and integrate a variety of perspectives for resilient and socially just environmental outcomes.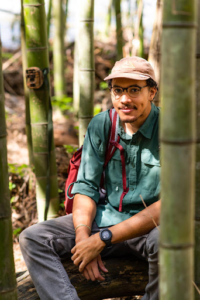 Tyus Williams, Doctoral Student, Schell Lab, UC Berkeley
As a Ph.D. student studying carnivore ecology at the University of California, Berkeley, Tyus is intrigued by how large mammalian carnivores not only interact with their environment during disturbance but engage and compete with similar taxa around them (e.g., intraguild competition). Tyus plans research using a non-invasive techniques such as camera trapping in conjunction with spatial analytical tools (e.g., ArcGIS) to draw inferences on movement patterns, occupancy, and landscape interactions.  He will use these inferences to understand trophic cascades and intraguild conflict which can be influenced by resource/space availability, dietary overlap, and global changes. Tyus is also a highly enthusiastic science communicator utilizing social media platforms to share knowledge and include others in the conversations around scientific discussions. He hosts #SciQFriday on Twitter, a weekly event where he invites fellow scientists to discuss their work and highlight diversity in the field.