Our Western Section Professional Development Committee has worked hard to develop a solid lineup of thought-provoking pre-conference events to be held just prior to our 2022 Annual Meeting.
Questions? Email our PDC Chair, Janine Payne: pdc@tws-west.org
2022 Pre-Conference Workshops:
Symposium:  Connecting People who Connect Wildlife:  Crossings, Corridors and More! 
R Bootcamp
Wildlife Biologist Construction Awareness Training (WildCAT)
Major Environmental Regulations:  Practical Knowledge for Biologists
Wilderness First Aid

Symposium:
Connecting People who Connect Wildlife: 

Crossings, Corridors and More! 
2 days — Monday & Tuesday February 7-8, 2022 

This is a VIRTUAL Workshop
Monday 1-5:45pm & 7-9pm; Tuesday 8:30am-2:30pm

Requires separate registratio

n fee.  Regiser Here (Annual Meeting & Pre-Conf Workshops Registration Tab)

Moderator:  Beth Pratt, National Wildlife Federation and John Perrine, Cal Poly San Luis Obispo
Join us for this special symposium that focuses on the science and practice of connectivity for wildlife large and small. From creating regional pathways for monarch butterfly migration to building a wildlife crossing over one of the busiest freeways in the county to save a local mountain lion population from extinction, this symposium will explore the diverse approaches and solutions to connectivity, and how this field has evolved over decades. This two day session will feature presentations and panel discussions from scientists and other experts, along with offering a chance for facilitated discussion. A social hour along with a film festival is also included.
We are excited to announce that we have amassed a stellar speaker list.
Hosted by the esteemed
Beth Pratt
 and 
Dr. John Perrine,
this symposium will examine the incredible existing body of work for crossings and connectivity that has been undertaken to date, as well as look at what the future means for wildlife connectivity. We plan to expand upon the topic of mega-fauna migration corridors and also consider what we'll need to do to connect landscapes (and waterscapes!) for fauna both large and small, in increasingly urbanized and fragmented landscapes.
Presenters:
Fraser Shilling – Research Scientist and Co-Director of the Road Ecology Center at UC Davis
Dr. Travis Longcore – UCLA Institute of the Environment and Sustainability
Dr. Winston Vickers

 – Wildlife Health Center at UC Davis, and California Mountain Lion Project

Rob Ament – Western Transportation Institute, Montana State University, and Senior Conservationist, Center for Large Landscape Conservation
Katie Rodriguez – Office Chief, Biology Branch, District 9 Environmental, CA Department of Transportation
Robert Rock – Principal & COO, Living Habitats LLC
Dr. Jodi Hilty – President and Chief Scientist, Yellowstone to Yukon Conservation Initiative & Author of Corridor Ecology: Linking Landscapes for Biodiversity Conservation and Climate Adaption
Dr. Madhusudan Katti – Associate Professor in the Chancellor's Faculty Excellence Program for Leadership in Public Science and the Department of Forestry and Environmental Resources at North Carolina State University
Dr. Justin Dellinger – Senior Environmental Scientist, CDFW
Kent Laudon – Senior Environmental Scientist – Wolf Biologist, CDFW
Dr. Merav Vonshak – Citizen and community science organizer, Newt Patrol
Warren Dickson – Co-owner of 3rd Rock Hip Hop
Griff Griffith – CA State Parks Natural and Cultural Resources Interpreter in the North Coast Redwoods District
Dr. Chris Wilmers – Santa Cruz Puma Project
Tanya Diamond – Co-Principal: Wildlife Ecologist-GIS Analyst, Pathways for Wildlife
Ahiga Sandoval – Co-Principal: Pathways for Wildlife
Mari Galloway – California Program Manager, Wildlands Network
Dr. Seth Riley – Wildlife Branch of the Santa Monica Mountains National Recreation Area
R Bootcamp*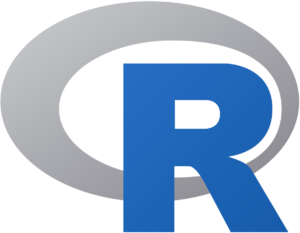 Tuesday, February 8:  8:00am – 5:00pm

*In-Person in Reno, Only
Limited to 20 participants
Requires separate registration fee.  Link to rates
Chair:  Mitchell Gritts, Nevada Department of Wildlife
Instructor:  Kevin Shoemaker, Ph.D., University of Nevada, Reno

The main goal of this workshop will be to ensure participants have enough proficiency and confidence with data operations and programming in R to engage in productive, self-directed learning and problem-solving.  The workshop is primarily intended for participants with little prior experience with R, but may be useful for others as a refresher  – especially the second half of the workshop, which will delve into more advanced topics.  The first half will focus on R syntax, data management (loading data, writing to file), data summaries and visualizations, R packages (loading, getting help), and basic statistical operations.  The second half will focus on some more advanced programming operations (loops, functions, debugging etc.), vectorized operations (e.g., "apply()" operations), working with large data-sets.

The workshop consists of a series of short modules, each of which covers a particular skill (e.g., reading in data, writing functions).  Modules will include a quick introduction, a demonstration in R, and some short challenges for you to work through on your own (or with your neighbors!).  All code will be available as scripts that you can download from this website (at the top of each module page on this website) and load up in RStudio.  That way you won't need to constantly copy and paste from the web!  More to come…
Wildlife Biologist Construction Awareness Training (WildC.A.T.)
Tuesday, February 8, 2022 –  1:00pm-5:00pm

Participate In-Person in Reno or Virtually via Livestream

Requires separate registratio

n fee.  Link to rates

Moderator:  Natalie Greer, AECOM
Wildlife biologists are often called on to provide technical expertise and implement protective measures on construction sites, but they rarely receive practical training in environmental permits or safety as they enter the workforce. This half-day workshop provides an introduction to construction monitoring for recent graduates, early career professionals, and regular construction monitors, and will be taught by experienced wildlife biologists, construction personnel, and health and safety officers.
Learn about the environmental permits that require construction monitoring, what to expect on construction job sites, situational awareness and health and safety basics, common environmental protection issues and Best Management Practices, effective communication techniques with construction crews, and useful tools of the trade.  Upon completion of the workshop, attendees will receive a certificate of completion and helmet sticker that shows prospective employers and construction personnel in the field that they have attended WildC.A.T. training.
Major Environmental Regulations: Practical Knowledge for Biologists
Tuesday, February 8, 2022 –  1:00pm-5:00pm

Participate In-Person in Reno or Virtually via Livestream

Requires separate registratio

n fee.  Link to rates

Moderators:  Linda Leeman, Ascent Environmental and Kelly Holland, GEI Consultants

Panelists: (1) Erin Campbell, Project Manager, Regulatory Division, USACE; (2) Mary Pakenham-Walsh, Chief CA Delta Section, Regulatory Division, USACE; (3) Sue Meyer, Permitting, Compliance, and Mitigation Manager, WSP
This workshop will provide an overview of six state and federal environmental regulations that are often triggered by projects in California and will focus on how biological expertise is applied. Participants will gain a comprehensive understanding of the environmental compliance process and how state and federal regulations overlap and interact. The emphasis of the workshop is to provide biologists with strategies and practical tools to confidently navigate the regulatory process. 
Goals
Gain more confidence/demystify regulatory process
Generate excitement/understanding of policy and how skills in applied biology can be used
Demonstrate how regulations may contribute to making a positive difference in species conservation
Objectives
Develop sense of timing (cradle to grave/inception to implementation and monitoring)
Discuss stages of project planning/design and when regulations come into play
Understand importance of agency engagement and coordination, including agency expectations and needs
Show how creativity and collaboration are key aspects to regulatory compliance
Use case study scenarios/examples to develop a toolbox/what we want them to walk away with so that information is easier to remember rather than a laundry list of tips.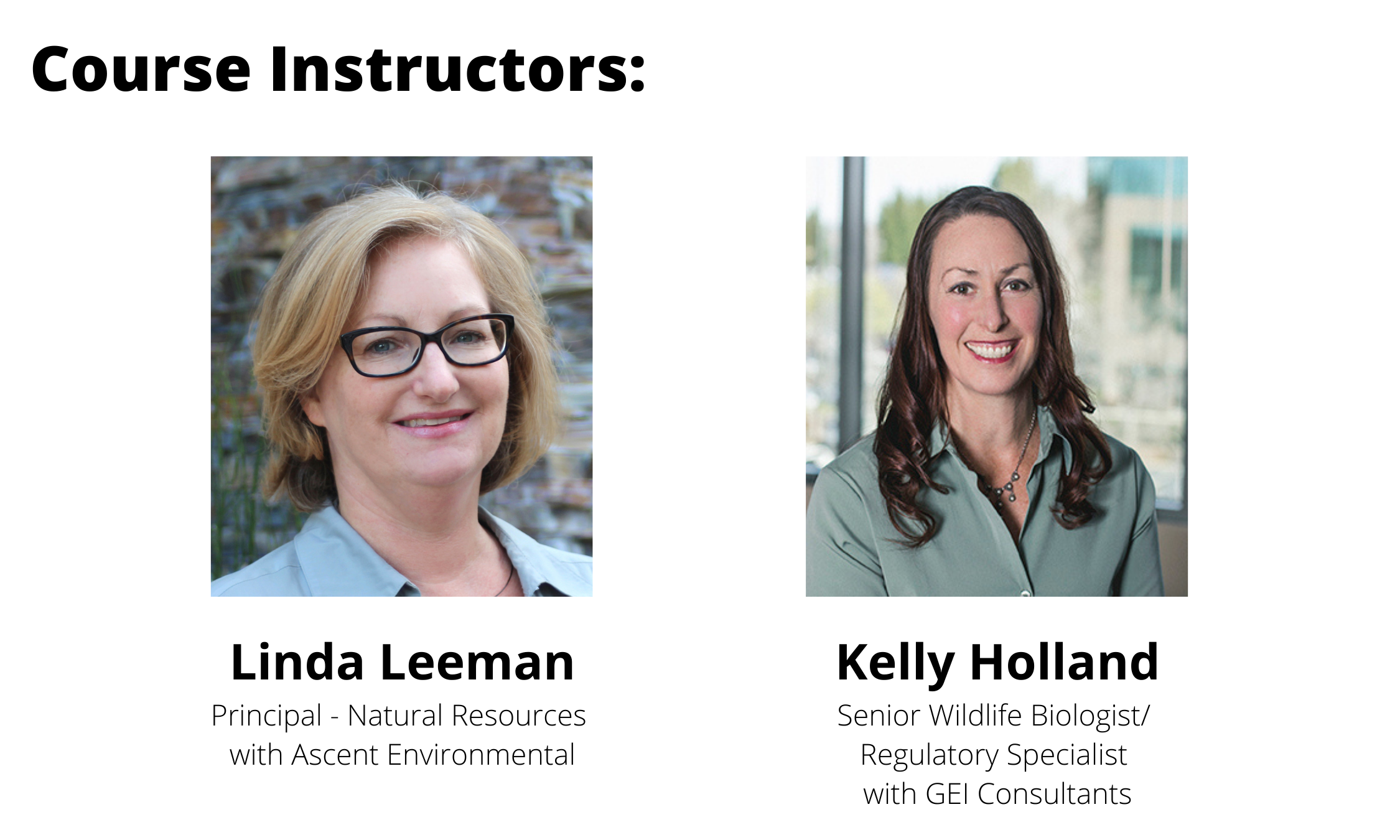 Wilderness First Aid*
Monday & Tuesday, February 7-8, 2022 (8:30am-5:30pm)

*In-Person in Reno, Only
Limited to 24 participants

Requires separate registration f

ee. Rates start at $245.

Safety Training Pros/Foster Calm
In addition to a half-day of outdoor scenario practice of first aid and leadership skills, this class focuses on practicing skills and covering: patient assessment, shock and bleeding, head and spinal injuries, wounds, musculoskeletal injuries, heat and cold illnesses, and much more. Gain some good tools and knowledge to handle a wilderness first aid emergency. Successful completion of class includes a Wilderness First Aid certificate.
Classes are fun with lots of hands-on skills practice. The emphasis is on making good decisions by staying calm and safe, doing a good patient assessment, and having good communication and leadership. Join our classes, where it is safe to learn and OK to make mistakes.